NAHDO's 32nd Annual Conference  
October 2-4, 2017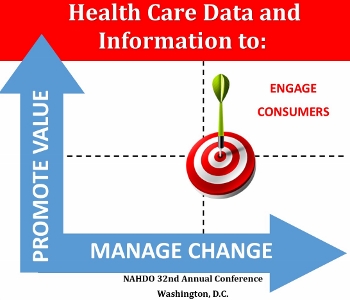 Special thanks to our Sponsors and Exhibitors!
Conratulations to our 2017 Elliot M. Stone Award and Infographics Contest Awardees
SAMHSA Workshop- SAMHSA SLIDES
Analytic "Interoperability' to Promote value in Healthcare Data Sources
Virginia Health Information, Healthcare Pricing Transparency SLIDES
Minnesota Department of Health,  Low Value Services and Pharmaceutical Spending SLIDES
Center for Innovation and Value in Health Care, SIM Proxy Analysis SLIDES
NAHDO, Multi State Data Project, SLIDES
General Agenda & Slides:
Tuesday, October 3rd 
Keynote Address: State Leadership in Supporting Effective Payment Reform – Data, Alignment, and Evidence
Mark McClellan: State Leadership in Supporting Health Care Reform
Joseph W. Thompson: State Health Policy in the Era of Big Data
Practical Applications:
Chris Lattig and Alex Lamb : Identifying Opportunities for Early Intervention Using APCD
Robin Gelburd: How State Legislative "Laboratories" Can Use Healthcare Claims Data to Advance Consumer Protection Laws: A Detailed Case Study
Laura Braslow: Empowering Medicaid Payment and Delivery Transformation with Claims Data
Emilie L. Sites and Maria de Jesus Diaz: Using All Payer Claims Databases to Evaluate Health Care Cost and Quality: What Have We Learned and Where Do We Go From Here?
Database Management:
Kevin Heslin: Tracking the Impact of the Opioid Epidemic on Hospital Utilization Before and After the Transition to the ICD-10-CM Coding System
Sylvia Hobbs: Profiling by Care Setting Information Gain in the Transition from ICD-9-CM to ICD-10-CM: A Combined All Payer Claims Data and Administrative Case Mix Approach
Betty Harney: How Massachusetts Tackled the Challenge of Identifying the Final Version of the Paid Claim within Its All-Payer Claims Database
John Hsu: The ERISA Pre-emption Clause and State APCDs: Implications for Data and Policy
Ellen Bunting: Federal and State Policy Drivers to Forming a Voluntary Multi-Payer Database
Plenary Session: National Panel
Janel L. Jin: Comprehensive Primary Care Plus
Wednesday, October 4th
Plenary Session- Employer Coalition Perspectives:
Larry Boress: Trends in Health Benefit Designs and Strategies
Kristy Thornton: Purchasers Need for Transparency
Stefan Gildemeister: Health Care Analytics that Matter to Employers: A Case Study using the MN APCD
Plenary Session:
Craig Schneider: Using Public Data to Promote Value-based Purchasing
Michael Lundberg: Using Public Data to Support Value Based Purchasing
Kathy Hines: Alternate Payment Methods in Massachusetts
Tayna Bernstein: Collecting Data on Alternative Payments Models As Part of an APCD
Analytics:
Pamela Neely-Buffone: The Value of Risk-based Deidentification to Population Health
Karl Finison:  Evaluating the Blueprint for Health's Medication-Assisted Treatment Program for Opioid Use Disorder Using Linked Data Sources
Ruirui Sun: Using HCUP Fast Stats for Timely State and National Level Trend Analysis
Karl Finison: Risk-Adjustment Methods for All-Payer Comparative Performance Reporting in Vermont
Tom Ricciardi: Leveraging a Web-Based, Multi-Payer Claims Analytics Solution to Improve the Quality and Affordability of Care
Plenary Session: Call to Action - Consumer Engagement
Tara Oakman: What Information Do Consumers Want and How Do We Provide It?