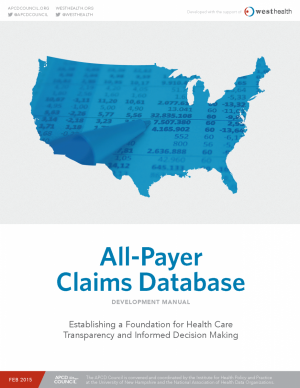 West Health Policy Center & APCD Council Launches "All-Payer Claims Database Development Manual: Establishing a Foundation for Health Care Transparency and Informed Decision Making"
The Gary and Mary West Health Policy Center and the APCD Council have launched a manual for states to guide development of all-payer claims databases (APCDs).
ABOUT THE APCD COUNCIL
The APCD Council is a learning collaborative of government, private, non-profit, and academic organizations focused on improving the development and deployment of state-based all payer claims databases (APCDs). The APCD Council is convened and coordinated by the Institute for Health Policy and Practice (IHPP) at the University of New Hampshire (UNH) and the National Association of Health Data Organizations (NAHDO).