The 2022 Awardees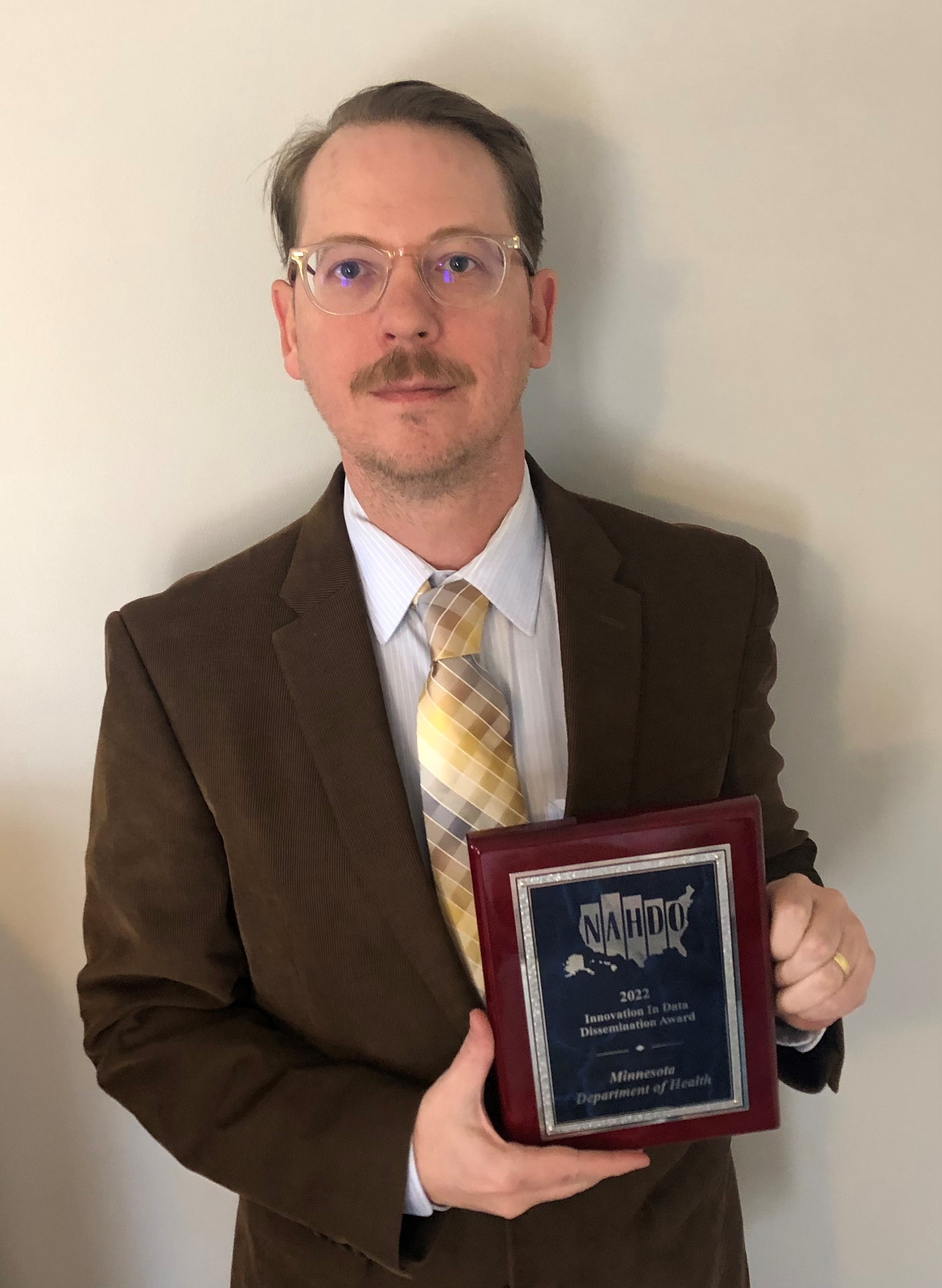 Karl Fernstrom, Minnesota Department of Health
The Minnesota Department of Health 
The Minnesota Department of Health (MDH) has recently updated its suite of six public use files (PUFs) prepared from the Minnesota All Payer Claims Database (MN APCD) to include new data elements and a broader reporting period that spans 2012 through 2019. To make this content even more accessible to the public, MDH has developed the MN APCD PUF Dashboards. Through these interactive and user-friendly dashboards, MDH is working to facilitate broad consumption of health care reporting for both researchers and a public audience.
These newly released dashboards provide users with the opportunity to engage with the PUFs' data across a wide range of topics, including health care utilization and spending, prescription drug use and costs, and medical providers. The dashboards explore key questions such as: How much do Minnesotans spend on health care and
prescription drugs each year? What are the most commonly diagnosed conditions in Minnesota? What are the most frequent health care services in Minnesota and where are they delivered? Who provides Minnesotans with health care? The de-identified data in the PUFs span all three of the primary payer types: commercial, Medicaid, and
Medicare. Each PUF has its own unique dashboard where users can select from multiple different measures, aggregations, and reporting years to visualize the results in real time. The PUFs and dashboards are accompanied by comprehensive user guides and data dictionaries to support transparency and help users understand how to interpret PUF data, measure calculations, and commonly used terms.
The RAND Corporation and The Robert Wood Johnson Foundation
In 2022, the RAND Corporation - with the support of the Robert Wood Johnson Foundation (RWJF) and other funders including Arnold Ventures and the Employers Forum of Indiana - continued to elevate the national discussion about provider price variation and its implications for health care access, affordability, and system sustainability.  RAND's "Round 4" report on Prices Paid to Hospitals by Private Health Plans used medical claims data from self-insured employers and APCD data from 11 states to develop service-level price comparisons across payers, providers, and states to illustrate the tremendous variation in how much Americans are paying for health care.  RAND's work reveals the power of claims data to sharpen our understanding of our complex health care system, and to catalyze movement toward policy and system reforms.